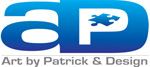 Art by Patrick is a project that originally started on July 7th 2012. I've always been interested in arts and love to draw and create art whenever I can. This project was inspired by my son's autism. In 2006, my wife and I were blessed with the birth of our son Sam.
In 2009, we decided to consult to find out what was going on. We tried speech therapy, we went for hearing tests and finally we went to the pediatrist to find out that it was autism.
In 2010, Sam was admitted into a specialised center in Dieppe, New Brunswick called Hebert Centre. There they helped our son learn what is the basics for us. Then in 2011, Sam started Kindergarden and WoW, we were amazed about the good reports we were getting.
In July of 2012, I've decided to create art and give a part of the proceeds to Autism Canada.
In 2013, I Decided to work on my own and create my own web design / Graphic Design company. Artist at heart but graphic designer by design.I create logo designs, websites, posters, brochures, wedding invitations, branding, prints, etc. Striving for perfection, I always make sure that the product is to your highest expectations.
I can help you get that successful "First Date Impression" that you are looking for. Art by Patrick and Design is the missing piece to your successful business. Contact me to set an appointment or talk about your ideas.
Please take the time to visit the site, check out the new posts or visit my Facebook page.